Impartiality
Certification of products, processes and services is a third-party activity (ISO/IEC 17000).
Impartiality is a key principle of the conformity assessment process and is defined by the International Standard for Conformity Assessment - ISO/IEC 17065 as the "presence of objectivity." 
Unlike first or second-party activities, third-party conformity assessment is an activity performed by a person or organisation that is independent of the provider of the product and has no user interest in the product.
As noted by ISO/IEC 17065, other terms useful in conveying the element of impartiality are:
Independence
Freedom from conflicts of interest
Freedom from bias
Freedom from prejudice
Neutrality
Fairness
Open-mindedness
Even-handedness
Detachment
Balance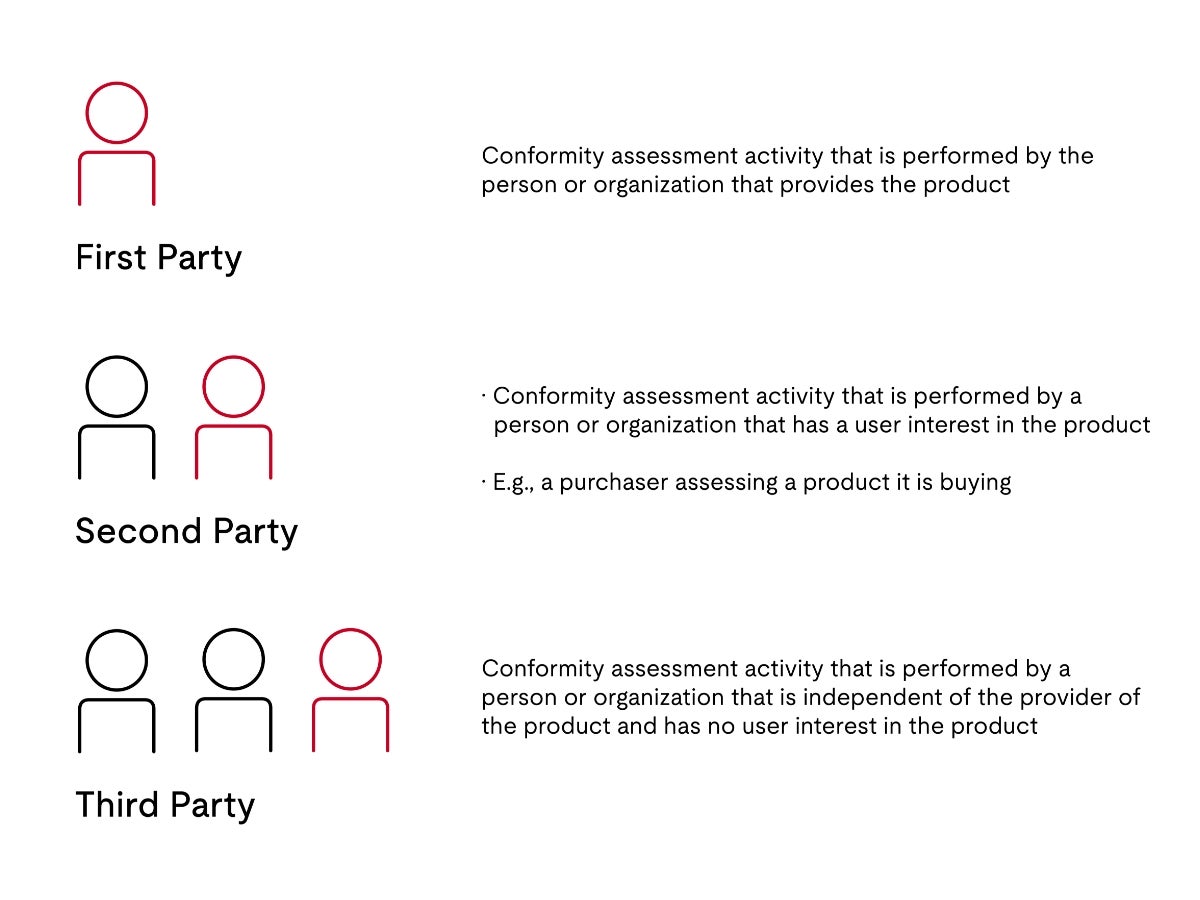 Managing impartiality
Certification bodies accredited to operate conformity assessment schemes in accordance with ISO/IEC 17065 are required to have a number of mechanisms in place to manage impartiality.  These include, but are not limited to:
Ensuring impartiality isn't compromised by commercial, financial or other pressures.
Identifying risks to ongoing impartiality, including risks arising from relationships internally and externally.
Eliminating or minimizing identified impartiality risks.
Incorporating organizational structures, policies and principles that outline clear duties, responsibilities and management authorities.
Acting impartially is a cornerstone of the conformity assessment process and underpins the very nature of a third-party activity.
Impartiality risks
Certifications to established and understood scheme types per ISO/IEC 17067 identify the following risks to impartiality:
Self-interest (e.g. overdependence on a contract for service or the fees, or fear of losing the client or fear of becoming unemployed, to an extent that adversely effects impartiality in carrying out conformity assessment activities);
Self-review (e.g. performing a conformity assessment activity in which the certification body evaluates the results of other services it has already provided, such as consultancy);
Advocacy (e.g. a certification body or its personnel acting in support of, or in opposition to, a given company which is at the same time its client);
Over-familiarity (i.e. risks that arise from a certification body or its personnel being overly familiar or too trusting, instead of seeking evidence of conformity (in the product certification context, this risk is more difficult to manage because the need for personnel with very specific expertise often limits the availability of qualified personnel);
Intimidation (e.g. the certification body or its personnel can be deterred from acting impartially by risks from, or fear of, a client or other interested party);
Competition (e.g. between the client and a contracted person).
Further information
To learn more about the third-party certification services UL Solutions offers in the ANZ region and beyond, contact us.
 
X
Get connected with our sales team
Thanks for your interest in our products and services. Let's collect some information so we can connect you with the right person.