Navigating the global marketplace
With numerous scheme and market requirements around the world, it is essential to have a trusted resource familiar with what is required long before you reach the border.
In-country support and testing and certification expertise offered by UL Solutions can support a road map combining market access to multiple countries at one time.
Connect to global compliance with local service.
Rely on a single trusted source.
Reduce costs.
Speed time to market(s).
Manage your product portfolio.
Aligned trade pathways
The ANZ built environment operates within a mature regulatory framework referencing local standards.
UL Solutions has tailored the UL-AU Mark scheme to these local market conditions and is uniquely positioned to complement this service to meet established import and export pathways.
Third-party product certification with UL Solutions can efficiently and cost-effectively consider multiple markets, saving you time and money consolidating your portfolio with a single service provider.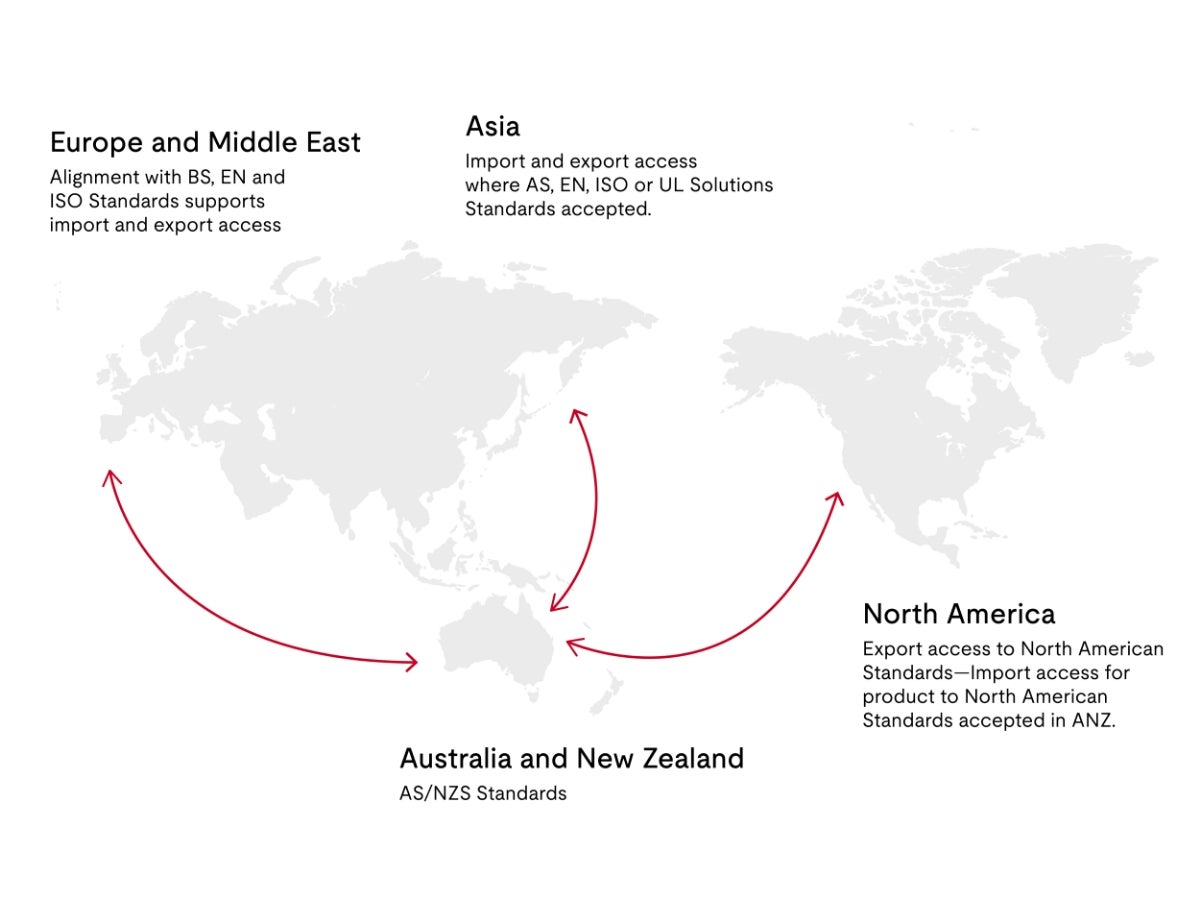 Consolidation case studies
UL Solutions has the capability to support your investment in product evaluation by consolidating processes that efficiently expand the scope of market access. Instead of engaging different service providers for different regions, UL Solutions can offer you a program of activities to manage your product portfolio.
Case study one — ANZ and Europe
A range of BS, EN and ISO product Standards adopted in Europe are aligned with Australian and New Zealand standards adopted in the ANZ region. UL Solutions can support market access by consolidating test programs for new products to meet multiple standards or leveraging existing data and reducing supplementary testing requirements. The UL-AU Mark also provides flexibility to adopt established European production surveillance approaches, further limiting duplication or additional activities to maintain multiple certifications.
UL Solutions can offer the UL-EU Mark and UKCA marking. Our data acceptance agreement with European certification body VdS also supports a faster route to market.
Case study two — UL and UL-AU
For product manufacturers seeking to access the ANZ market and market entry to North America, UL Solutions can develop certification plans that address the local AS and AS/NZS standards as well as UL or ULC Standards. Certification can be offered for multiple markets accepting the North American approach to production surveillance to meet expected requirements limiting duplication or additional activities impacting cost. Furthermore, achieving the UL Mark for North America also opens access to other regional markets that accept this certification, such as the Middle East, Asia and South America.
One mark — multiple regions
UL-AU Mark certified products are complemented by product certificates nominating conformity details and listing on UL Product iQ®, our global online certification database. The UL-AU Smart Mark applied to a certified product provides a transparent digital path between physical products and conformity information to support ready decision-making by all stakeholders. Smart Mark technology allows UL Solutions to link multiple product certifications to individual products.
Testing is part of a more thorough certification process.
Independent review and certification decision considers factory auditing.
Unique product mark links physical product digitally to online certified product directory and conformity details.
Ongoing production surveillance is undertaken to maintain certification status.
myUL Client Portal
myUL® is a secure source that gives you an enhanced level of access to your UL Solutions project files, such as product information, documents and services — especially important when managing a global product portfolio.
Quotes and orders
myUL provides full visibility into quotes, orders and projects. From details and tasks to timelines and due dates, myUL makes it easy to view and manage your overall project status and includes features such as estimated completion percentages and notifications.
Documents
myUL is a secure portal for UL Solutions reports, procedures and global certifications. Users can easily access this information at any time.
Samples
Use myUL to follow your product samples on their UL Solutions journey. The portal shows when UL Solutions receives samples, and when they're returned, picked up, destroyed or archived. 
Inspection reports and variation notices
myUL provides easy access to inspection reports and variation notices. Inspection reports include the date of the inspection, factory representative(s), type of product inspected, type of business, file number, inspection center and any variation notices that may be linked to the report.
Variation notices are also available with links to the inspection report, including critical details and action needed by the applicant or manufacturer.
Learn more
UL Solutions is your global product certification provider
UL Solutions has the capability to deliver trusted third-party product certification for your product portfolio, at home and for international markets, helping you reduce costs, improve efficiency and speed time to market.
We seek to become your most trusted, science-based, safety, sustainability and security partner.
Further information
For more information about how UL Solutions can help, contact us.
X
Get connected with our sales team
Thanks for your interest in our products and services. Let's collect some information so we can connect you with the right person.