How sustainability can help your business
To stay competitive in today's global marketplace, all companies must address the demands for environmental, social and governance data by investors, stakeholders, regulators, retailers and consumers. The market is no longer content with single CSR efforts and one-off sustainability initiatives and instead wants greater transparency into how businesses are acting to reduce climate change, create more circular products, and provide more transparency into their global supply chains and social impacts.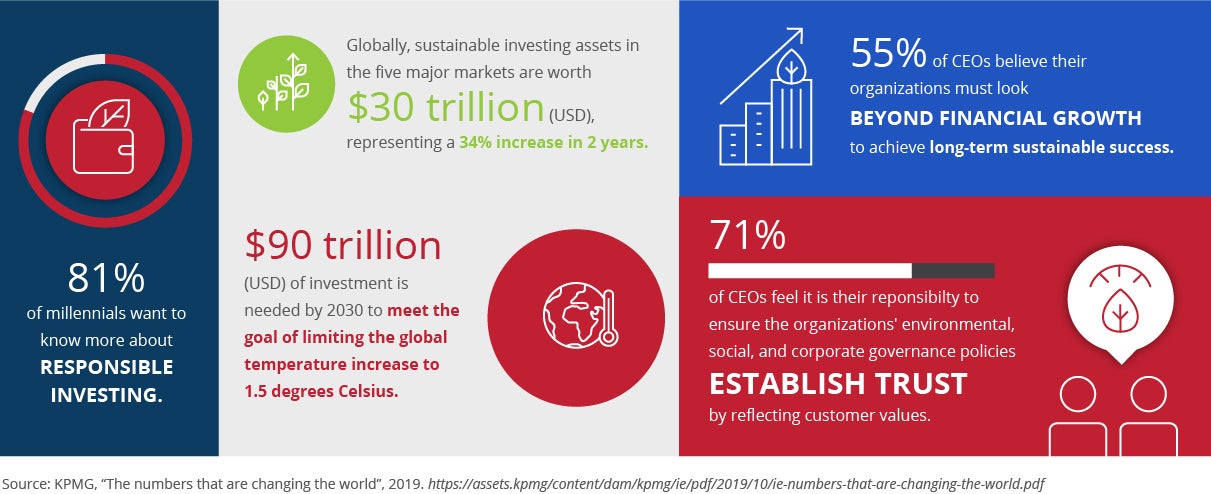 Offering consumers eco-friendly options used to be an endeavor embraced mainly by ecologically inclined companies. It reflected their mission and appealed to customers who were loyal to them for their forward-thinking philosophies and corporate social responsibility (CSR). But now, sustainability management is a business imperative because not only are consumers demanding it; investors are including it in their requirements for companies they invest in.
To stay competitive in today's eco-conscious environment, companies must do these three things:
Reduce greenhouse gas emissions and raw material use and set goals to lessen environmental impacts
Recycle production byproducts and used products, contributing to a circular economy
Report reductions in impacts across a range of reporting frameworks, such as Carbon Disclosure Project (CDP) and Global Reporting Initiative (GRI)
Companies that fail to disclose their sustainability initiatives risk a lack of investment from investors and erosion of trust with customers and other key stakeholders.
Product solutions
---
Meeting your sustainability goals
UL Solutions can help you determine your areas of greatest environmental impacts and set goals, and measure and report your efforts across enterprises, supply chains, product lines and building portfolios. Whether you are just starting your sustainability journey, digitizing data or reporting to frameworks such as the Sustainability Accounting Standards Board (SASB), GRI or CDP, our experts are committed to helping you measure, optimize and communicate your company's environmental efforts.
Businesses can realize measurable value from our sustainability solutions. Trust our testing, certification, inspection and software solutions to help you augment knowledge, anticipate and answer to risk, and add transparency across your value chain. We look forward to helping you with sustainability solutions today to build a more sustainable future for all.
Steps to sustainability and environmental compliance
Investor/stakeholder requirements — is your company being asked for ESG data?
Increasing regulation and reporting requirements — get ahead of regulatory compliance
Risks in the supply chain — identify and reduce ESG risks in global supply chains
Brand and asset risks — avoid risks to your brand by managing critical compliance, social and environmental factors, and manage risks to assets due to climate and natural resource changes
Sustainable innovation — implement sustainable innovations to avoid disruption to supply chains and natural resources
Enterprise solutions
---
Sustainability services to conquer compliance challenges
Conquer your compliance challenges confidently and easily with sustainability solutions from UL Solutions. Our services help you confirm compliance to regulations at the product level, asset level and enterprise level, giving you and your staff the tools and knowledge you need to succeed at understanding sustainability impacts along the entire supply chain and asset portfolio.
Our sustainability services and solutions are achieving worldwide recognition:
We contributed to the development of more than 80 globally recognized sustainability standards, which are referenced in more than 900 purchasing guidelines and green building standards worldwide.
We have globally recognized experts in indoor air quality (IAQ).
Our expertise in supply chains and product life cycles empower companies to understand their full environmental and social impacts.
Our suite of sustainability software solutions is top-ranked by environmental research firm Verdantix in its survey of top EHS decision-makers.
UL Turbo Carbon™ and 360 Sustainability software solutions enable carbon reporting to Scope 1, 2 and 3 emissions, in accordance with the global Greenhouse Gas Protocol, and are rated top tier by Verdantix for sustainability software solutions.
Asset solutions
---